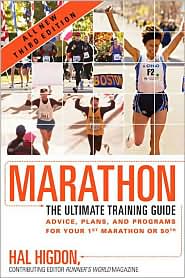 Marathon: The Ultimate Training Guide

by Hal

Higdon
Marathon
(as you have probably guessed) is another book on training for a marathon. As with
Marathoning

for Mortals
, much of the focus of this book is on helping beginners or runner who are inexperienced at long distances tackle the task of training for the 26.2 miles of a marathon.
Marathon
is a very comprehensive book that not only gives you a great foundation to start your training, but also gives you a ton of other information that you may not have considered or even thought about.
The author, Hal
Higdon
, was a competitive runner in the 1960s and 1970s (he is still an active runner, but since he is in his 70s he isn't necessarily competitive anymore), when he achieved marathon times in the 2 hour, 20 minute range (
phenomenally
fast), including finishing as high as fifth (first American) at the Boston Marathon in 1964. He has been a longstanding contributing writer for
Runner's World
magazine, and has written over 30 books, mostly on running.
The biggest strength of
Marathon
is the breadth of topics that are covered. For example, there are chapters on beginning runners, "Your First Marathon," how to build up mileage, endurance training, speed training geared toward marathon running (although
Higdon
recommends you not worry about speed training for your first marathon), injuries, and even a whole chapter on "mind games" to help you get through the mental challenge associated with running for 3 plus hours (if you're really good) or 4 plus hours (if you are a normal, average jogger). I thought that two chapters in particular were very helpful, mostly because I had never really thought about them before. The first was "The Distance Runner's Diet," which helps you try to get your nutrition in good form to help you run 26.2 miles (I'll admit that I haven't really put this into practice
myself
, but I hope to). The "Diet" chapter also referred me to
Nancy Clark's Sports Nutrition Guidebook
, which I hope to read soon and which looks like a fabulous book to help learn how to eat properly, not just for sports, but for life. The second chapter that I found really helpful was "Predicting Pace and Performance." This chapter talked about the ways you can predict what your race pace should/might be, and how to use that information to determine what your pace should be during some of your workouts.
Higdon
listed several methods, the most useful being
McMillan Running Calculator
, a truly fabulous tool for calculating paces and planning workouts. (By the way, Greg McMillan's website also has a great article on some of the physiological reasoning behind different training methods that really helped me understand the importance of long easy runs, shorter and faster tempo/
threshold
runs, and
speedwork
, even for long distance training).
Finally,
Marathon
also points you to
Hal

Higdon's

personal website
,
halhigdon

.com
where he has includes tons more information on more specific training details and a link to a very good forum that he checks and posts on quite frequently where you can get more specific questions answered.
Higdon's
website alone is worth the price of admission for the
Marathon
book.
Like
Marathoning

for Mortals
,
Marathon
doesn't go into incredible detail on how to do the actual training, day to day (although it is more detailed than
Mortals
), but there are other great books and websites for that. What
Marathon
does do very well is cover just about every topic that is related to running a marathon, and
Higdon
does a great job of pointing to other sources of information where you can learn more (the McMillan Calculator and Sports Nutrition Guidebook being two examples that I have already mentioned). Overall,
Marathon: The Ultimate Training Guide
pretty much lives up to its name. It can, and should, be one of the first places you turn to get a question about this difficult race answered